Agritalia achieves prestigious BRC Agents & Brokers Certification with AA grade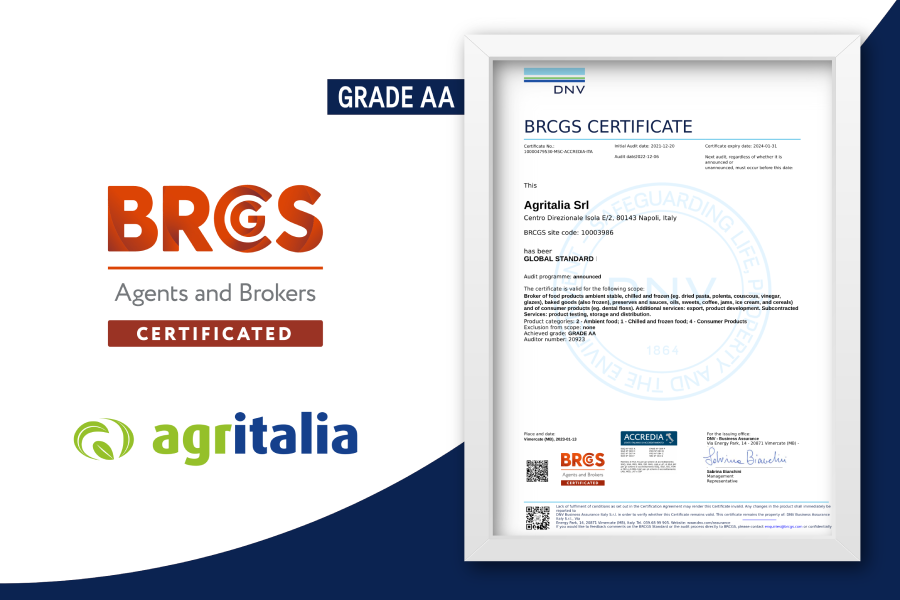 Agents and Brokers, specializing in the trade of various products, play a key role in facilitating the trading of goods. This intermediary function significantly shapes the safety and quality standards of the suppliers' products, while also having a crucial responsibility to maintain an effective traceability chain.
The Agents and Brokers Global Standard outlines a complete set of prerequisites designed to oversee aspects including product safety, authenticity, quality, and legitimacy. This framework is tailor-made for businesses operating in the food, packaging, and consumer goods industries. Specifically, these companies engage in the trading, buying, or facilitating the exchange of products, but do not manufacture or produce any products within their own facilities.
In this context, Agritalia takes a leading position in the complex network of trades from Italy and Europe to the world. The company contributes to ensuring and respecting both safety and quality standards of its suppliers and guarantees a continuous flow of traceability throughout the supply chain.
Agritalia's constant commitment to quality excellence and food safety is exemplified by its alignment with the BRC (British Retail Consortium) Standard for Agents and Brokers, which was achieved with the highest grade: AA.