Agritalia Recognized as Supplier of the Year with Special Recognition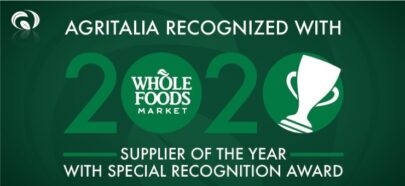 Global Retail Brands – January 2022 – Agritalia has been recognized by Whole Foods Market as a winner of the grocer's ninth-annual Supplier Awards, taking home the honor of Supplier of the Year with Special Recognition. The Whole Foods Market Supplier Awards distinguish 42 companies that raised the bar in 2020 across all product categories. The company, a three-time winner of the award in 2011, 2019 and 2020, has been conferred with the Special Recognition among those "that go above and beyond in helping Whole Foods Market grow and drive business as well as inspire and delight customers". In fact, Agritalia has an extensive expertise in selecting and providing the finest products picked from the assortment of over 100 qualified suppliers located across Italy and European Union, being able to consistently maintain the rigorous quality standards required by Whole Foods Market. For the Naples-based company this is a twice as valuable acknowledgement considering that an average of 90% of suppliers of U.S. primary grocery retailers are local, regional or at national level. Also, Agritalia has been able to stand out for its reliability even during a critical year like last year, when several U.S. supermarket chains had to manage serious problems of shortage of goods due to the pandemic. Agritalia Recognized as Supplier of the Year with Special Recognition In synergy with sister companies Agrilogistica and Agrusa, the company was able to put in place a timely, efficient contingency plan to avoid out of stocks despite the unfavorable situation. During 2020, the Covid-19 global emergency has exponentially boosted sales for large-scale retailers across the USA leading the volumes of Agritalia to the new continent up to +37% compared to the previous year. At the same time, the pandemic has been a major driving force also for the medium and small manufacturers that work in partnership with the group that have significantly increased their productions to ensure products' availability even in the most complicated peaks of the emergency, proving great sense of cooperation and willingness to contribute. "Agritalia opens the doors of the U.S. market to smaller or niche producers who alone would not have the strength or expertise to land in America," says CEO Sergio Massa. "We are the only ones to offer such service, and we are proud ambassadors of the Italian specialties, always discovering the new excellences our land has to offer and bringing them to the shelves of U.S. supermarkets." In fact, Agritalia specializes in private label programs for food and non-food items for some of the biggest retailers of the American grocery scenario. With over 30 years of experience, the company represents a privileged showcase for many small and medium-sized Italian and European producers. On the other hand, for retailers interested in including overseas specialties in their catalog, the company offers turnkey solutions: from the identification of the most suitable manufacturer for each program, to distribution and reordering on shelf.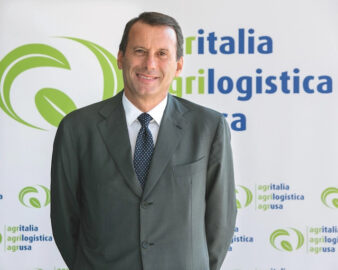 The company has more than 700 products in its portfolio, ranging from pasta, pasta sauces, balsamic vinegar of Modena, couscous, frozen foods (mainly pizza and Italian ice cream), and last, but not least, extra virgin olive oil of which Agritalia manages 5% of exports from Italy to the United States. Pasta, extra virgin olive oil, and vinegars have surely been Agritalia's flagship products since the beginning, as well as the most exported Italian products over the last three decades. The pandemic has certainly favored a further growth in exports: between March and August last year, pasta recorded a 60% increase in turnover (compared to 2019) while vinegar, a category that includes both balsamic vinegar of Modena and wine vinegars, by 45%. Increases likely due to a greater inclination among consumers to try new recipes and more complex preparations during lock-down. Despite the trend of home-made preparations, the category of ready meals however witnessed an interesting increase in sales compared to the previous year, in particular frozen pizza (+70%) and meal kits (+66%).
The most interesting development is the boom of the organic segment, which grew by 48% compared to 2019, suggesting that – during a health emergency – consumers somehow changed their consumption habits and have resorted to organic options. "The year of the pandemic has certainly given an acceleration to our business," Massa explains, "also because in the United States the large-scale retail channel has suffered less from the lockdown and, if possible, has increased turnover thus leading to an increase in our work not only in terms of turnover but also in terms of suppliers". Last year, over 3,000 containers optimized up to 50 different items per single container left from the hub of Nola, a logistics platform of 60,000 square feet equipped with advanced technologies, allowing Agritalia to guarantee continuity of supply to its customers and increase sales by +37%. Agritalia's success is built on the Automated Replenishment Program (ARP), an advanced logistics solution based on the innovative Cloud Sourcing Intelligence (CSI), a proprietary software that makes the supply chain more efficient by analyzing sales data to plan suppliers' workflow, consolidate and optimize the containers leaving every week for USA guaranteeing products always fresh and in stock. Thanks to this system, Agritalia can provide a "just in time" solution that allows suppliers to have greater control over production and customers over purchases.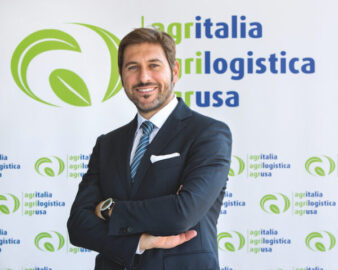 "Our vision – explains Leo Nucera, Sales and Marketing Director of Agritalia – includes smart logistics that avoid all inefficiencies and make sure that each product, before arriving in the homes of consumers, follows the shortest and quickest path possible from the time of production to consumption, reducing costs and providing a sustainable service. This applies as much to North America as it does to future projects in Europe or Asia." The most recent, but no less important, step in Agritalia's journey towards an eco-friendly supply chain is the collaboration with the UK-based University of Sheffield, with the aim of developing new certified standards of sustainability for the entire group. Through this partnership, the company has joined one of the latest sustainable-based projects sponsored by the European Community: ProCEedS (H2020-MSCA-RISE-2018), which is a research consortium that aims to study the eco-sustainable implications of different distribution models, including that of Agrilogistica, and the consequent reduction of environmental impact, food waste and carbon dioxide emissions in the retail sector. The theme of sustainability will continue to be a priority for Agritalia, which is also committed in pursuing with goals 9 and 12 of the 2030 Agenda for Sustainable Development sponsored by United Nations.