Agritalia awarded "National Supplier of the Year 2020 & Special Recognition" by Whole Foods Market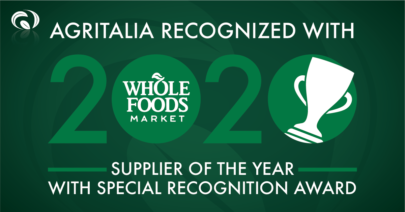 AUSTIN, Texas (May 25, 2021) – Agritalia has been recognized by Whole Foods Market as a winner of the grocer's ninth-annual Supplier Awards, taking home the honor of Supplier of the Year with Special Recognition. The Whole Foods Market Supplier Awards distinguish 42 companies that raised the bar in 2020, including local, regional, and national brands across all product categories.
"The entire team of Agritalia, along with the colleagues from Agrilogistica and Agrusa, is sincerely grateful to have been honored with such reward, testament to the dedication, commitment and passion that define our job. Whole Foods Market has set the standard for quality, innovation and excellence in the retail industry, and we are proud to have been able to give our contribution in delivering their mission to nourish people and the planet".
Agritalia, three-time winner of the award in 2011, 2019 and 2020, has been conferred with the Special Recognition among "the companies that go above and beyond in helping Whole Foods Market grow and drive business as well as inspire and delight customers". Agritalia has an extensive expertise in selecting and providing the finest products picked from the assortment of over 100 certified suppliers located across Italy and European Union, to be able to consistently maintain the rigorous quality standards required by Whole Foods Market.
Agritalia, in partnership with Agrilogistica, also runs a new state-of-the-art logistics platform strategically located near the main ports of Naples and Salerno (southern Italy) which employs the latest technology to optimize distribution allowing the company to deliver the goods always on time, avoiding any risk of out-of-stock or over-stock while minimizing the impact of the food supply chain on the environment.
Awards and recipients for 2020:
Supplier of the Year
Supplier of the Year is awarded to Whole Foods Market suppliers who rise to the top in overall excellence.
Global winners: Kvaroy Arctic (Perishables Supplier of the Year), FOODMatch (Culinary Supplier of the Year), Solely (Center Store Supplier of the Year)
Regional winners: Rainforest Distribution (Mid-Atlantic), NAPI (Navajo Agricultural Products Industry)/Navajo Pride Organics (Rocky Mountain), Nana Joes Granola (Northern California), Adams Ranch (Florida), Iggy's Bread of the World (North Atlantic), Mill-King Market & Creamery (Southwest), Sacred Serve (Midwest), Big Spoon Roasters (South), Island Spring Organics (Pacific Northwest), IWON Organics (Southern Pacific), Bread Alone Bakery (Northeast), The Gluten Free Bakery (United Kingdom)
Special Recognition is awarded to suppliers that go above and beyond in helping Whole Foods Market grow and drive business as well as inspire and delight customers.
Global winners: Great Range Bison, Mastronardi, Diageo, Pact Apparel, Pastry Star, Kettle Cuisine, Agritalia
Awarded only to new global suppliers in 2020, Rookie of the Year is presented to new global suppliers who provide products to three or more Whole Foods Market regions with strong overall performance and execution.
Global winners: Milk Bar, Greenbar Distillery, Yonges Island Fish Company
Quality and Innovation
Suppliers that help us advance Whole Foods Market standards and take an actionable part in moving the industry forward are recognized with Raising the Bar for Quality awards. This year's recipients have displayed innovative manufacturing or agricultural techniques.
Global winners: LaBelle Patrimoine Heritage Chickens, Alaska Glacier Seafoods, Sun Pacific, Bianco DiNapoli, New Yorker Bagels, MegaFood
The recognition of Outstanding Innovation is awarded to suppliers leading disruptive innovation, positioned boldly at the forefront of industry trends.
Global winner: Primal Kitchen
Supply Chain Support recognizes suppliers that find creative solutions to logistical challenges and prioritize Whole Foods Market's customer demand.
Global winners: Rao's, Applegate Farms, Emmi Roth
Purpose and Core Values
Environmental Stewardship is awarded to suppliers who have established environmentally conscious business methods and models, such as reducing carbon footprint and incorporating ecofriendly packaging.
Global winner: GoMacro
Brands aligned with Whole Foods Market's core value to care for our communities receive the Purpose Driven Empowerment recognition.
Global winners: Bloomia, Subject to Change Wine Co., Tony's Chocolonely
Suppliers that are awarded the Regenerative Agriculture Commitment award are committed to holistic farming and grazing management practices that improve soil, enhance biodiversity and increase carbon capture.
Global winners: Atkins Ranch, Alexandre Family Farms
Key suppliers who support and share Whole Foods Market business initiatives and win-win-win outcomes are awarded the Service and Partnership recognition.
Global winner: Taylor Farms
About AGRITALIA
Founded in Naples (Italy) in 1987 by Stefano and Sergio Massa, Agritalia specializes in private label programs representing around 95% of the company turnover. The core business is the export of Italian products mainly to North America. With over 30 years of experience in the food industry and a portfolio of over 700 dry and frozen items, Agritalia represents an effective and simple solution to run authentic Italian private label projects. The Company also aims at offering distinguished advantages such as procurement, research and development, quality assurance, marketing, and logistics services to look after an entire project while ensuring the highest flexibility (www.agritalia.com; www.agritalia.com; www.agrusainc.com).
Contacts
Leo Nucera
Sales & Marketing Director